Schott Poly 217 217w 20 Volt Nominal PV Module
DataSheet
Go Back
---
SCHOTT Solar is a world leader in the photovoltaic industry and has more than 50 years of experience in the development and production of quality components for solar applications.
Due to strict internal quality standards, exceeding those of the certification agencies,all SCHOTT Solar modules are extremely durable and reliable. The polycrystalline cells within each module are sorted to particularly narrow performance tolerances, thereby allowing series interconnections with minimal mismatch losses.
Narrow output tolerance:
SCHOTT Solar POLY™ modules are among the industry leaders in power output tolerances. When you receive a POLY™ 220, the module will be at least 220 watts, as measured at the flasher during production. That is minus 0 watts! This provides for a stable, high-energy output and you can feel secure that you know what you will get with a SCHOTT Solar module.
Long term reliability:
SCHOTT Solar offers a power output guarantee of 20 years.
Up-to-date features:
SCHOTT Solar modules offer up-to-date electrical features;
PV Wire cables for use with transformerless inverters and locking connectors.
Environment:
Due to our concern with jobsite waste and disposal costs, we now
"bulk" pack our modules to reduce this waste.
---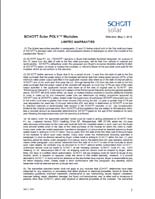 Top